Everything was better before, or at least easier. One cloth to wipe wet surfaces and one for dusting. Finished. And today? There are many different cleaning cloths designed for different cleanings like the fastest, most thorough and most gentle. With the right cleaning cloth, you are saving time while getting beautiful and clean surfaces for a long time. So we thought we should share our favorite clothes here at Sona Maids: Microfiber cleaning cloths – the cleverly colorful all-rounders.
Microfiber is our favorite for household cleaning and works for almost all surfaces. The benefits of synthetic fiber cleaning cloths are that they are absorbent, lint-free and require little cleaning agent for good results – that's good for the environment and your wallet. At Sona Maids, we clean with high-quality microfiber cloths incorporating the 4-color system. The 4-color system makes it so we use a color-coded cloth for each area of ​​the home.
Microfibre cloths are perfect for cleaning:
Furniture / Living Area
Kitchens
Baths
Toilets / Urinals
High-gloss surfaces
As a duster
Mirror – you can easily get smooth surfaces using microfiber cloths when they are used to polish things like mirrors, glass or chrome-plated steel. To clean high-gloss surfaces, be sure to use microfiber cloths with PVA (polyvinyl alcohol) or with a smooth polyurethane coating (PUR). This keeps the surfaces shiny and not dull. Sona Maids only use smooth soft cloths with a laser-cut edge or cotton cloths fabric blended with viscose for sensitive surfaces such as acrylic, piano lacquer or high gloss coating.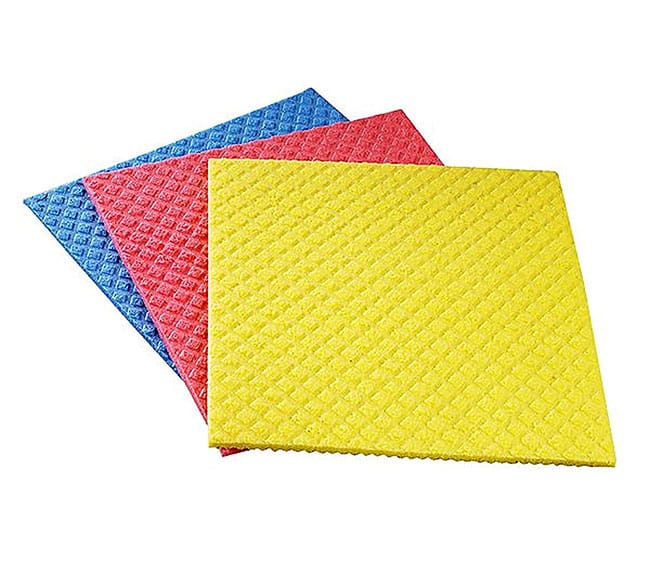 Cleaning wipes made of cellulose – clean with the power of nature.
Cellulose is the primary element of plant cell walls, so it is a natural raw material. It is mostly made of wood and is completely biodegradable. The benefits of cellulose wipes are that they are tough, sturdy, absorbent and can be washed and reused at 60 degrees celsius.
Cleaning wipes made of blended fabrics such as cotton and cellulose or corn starch (polylactic acid) and cellulose are very well suited for the cleaning of floors
. Cellulose sponge wipes are popular aids when there is lots of rinsing involved in the cleaning or just regular cleaning, along with cleaning water-resistant and sealed surfaces. Cellulose wipes are perfect for cleaning:
floors
dishes
sealed surfaces
Cotton cleaning wipes – high-absorbency cleaning
Cotton is the mother of all cleaning wipes. Even our ancestors were able to get sparkling results by using these absorbent cloths. They also provide an advantage because of how they enlarge and their affect on the environment: cotton, like cellulose, is completely biodegradable. The only negative is that cotton can leave fluff so it is not well suited for cleaning that involves polishing.
Cotton cloths are perfect for cleaning:
floors
dishes
drying (also as blended fabric with linen)
as a duster (also as blended fabric with viscose)
Leather cleaning wipes – a former favorite for windows
For a long time, leather was considered the holy grail for cleaning windows, glass and smooth surfaces. Today, the expensive material is usually replaced by the cheaper microfiber cleaning cloth. Another disadvantage: leather gets hard over time and is rendered useless for cleaning surfaces.