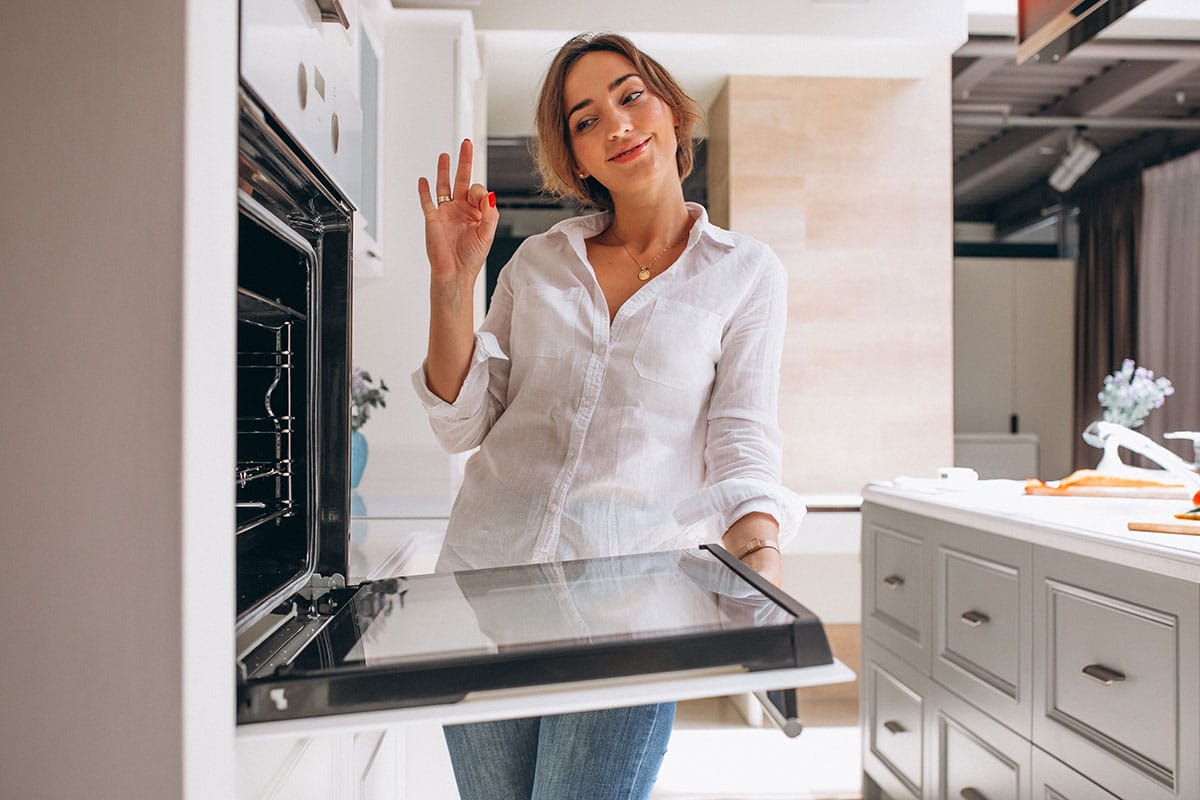 Cleaning an oven has never been easier with self cleaning ovens that make the task a breeze using pyrolysis! Pyrolysis is a thermo-chemical breakdown of organic compounds that require very high temperatures. Modern ovens take advantage of pyrolysis: they offer a self-cleaning program in which dirt and residues are burned in the closed oven at very high temperatures leaving only ash behind. So the time involved cleaning is greatly reduced.

A self cleaning oven using pyrolysis saves you from stress and time
It all sounds too good and easy to be true, but trust us that it works. The advantages of these ovens are the following:
Time-saving: You no longer have to soak the oven for hours and then wipe it until it shines again. After cleaning by pyrolysis, simply wipe the remaining ash from the oven
No chemical cleaners: abrasives and harsh cleaning sprays are a thing of the past with pyrolysis. And that gives you better results because you don't want to find any detergent residues when baking and roasting
No more annoying scrubbing: leave the working out to your fitness time because muscle power is no longer required with a pyrolysis oven. Simply switch on the cleaning program and wipe the oven briefly with a damp cloth when finished.
There are no annoying smells due to burnt-on food residues in the oven, as well as the smoke that often accompanies them. Making these ovens sounds like a worthwhile investment. However, there are a few disadvantages to self-cleaning that we will also share with you.
Pay attention to the features when buying
All major manufacturers such as Samsung, Maytag, LG, GE or Whirlpool have self-cleaning ovens in their inventory. The cost to buy a self-cleaning pyrolysis-capable oven is often higher than similar ovens without this feature. Also, when buying pay attention to the energy efficiency class of the device, especially if you want to use the self-cleaning cleaning program more often. It is very worthwhile to pay attention to an energy-friendly oven in order to save costs and help the environment at the same time.
Baking trays and other accessories that you use in the oven are often not suitable for pyrolysis. You have to remove these accessories from the oven and clean them separately – often by hand because they are too large or too dirty for the dishwasher. In addition, inquire in advance whether the entire pyrolysis oven can be cleaned or whether certain individual parts, such as slide-in rails, first have to be removed. Having to do this manually will require more effort and time.
It is particularly bothersome if not all residues have been burned after pyrolysis cleaning, for example on the glass pane of the oven. This can happen and requires subsequent cleaning and scrubbing.
Who should buy a self cleaning oven?
Despite the disadvantages mentioned above, a self-cleaning oven is perfectly fine. Especially if you use your oven frequently and mainly prepare greasy food, such as roasts or chicken, such a device is worthwhile quickly. Even if you are rather careless in the use of protective baking paper – for example under pizza – the feature makes your kitchen work easier. A pyrolysis oven is not absolutely necessary for people who cook on the stove rather than baking or gratinating.
Alternative to self cleaning ovens:
Easily clean your oven
There are a few tips and tricks to help you get an oven back to a shining clean with which the task becomes a child's play for you.
It is best to wipe the oven thoroughly after each use.

 

This way the food residue doesn't get burned onto the oven.

Better to not use harsh cleaners.

 

They leave unpleasant smells that can be transferred to the food the next time they are used.

 

They also pollute the environment unnecessarily.

Leave an oven-safe bowl filled with water and lemon juice in the oven at 50 ° C for approximately half an hour.

 

The evaporated water-acid mixture dissolves stuck-on debris, making the cleaning process easier.
The biggest myths about self cleaning ovens
Even though pyrolysis is gaining ground, there are still numerous myths and mistakes about self-cleaning ovens in circulation, which we would like to clarify here.
Myth # 1: Pyrolysis is bad for the environment
In order for pyrolysis to be fully effective, the oven must reach high temperatures so you are using energy in the form of electricity. But the kilowatt-hours actually required are limited, in addition, there is no need to use chemical cleaning agents when cleaning with pyrolysis. If you still have concerns about the power consumption, you can alternatively opt for a self-cleaning oven with catalysis. This type of oven will have a special coating of enamel or ceramic to which metal oxides have also been added. This means that splashes and leftovers are not easily able to find a hold on the oven walls so they do not get stuck. Fat particles disintegrate during the baking process. The disadvantage to catalysis ovens: the special coating is sensitive and wears out over time. Chemical cleaning agents and scratchy sponges also add to this. What many do not know: Pyrolysis ovens are particularly well insulated, which means that electricity consumption is lower during normal use.
Myth # 2: Pyrolysis is dangerous
Many people don't like the idea of ​​letting the oven run at such high temperatures for such a long time. What if a family member opens it during the cleaning process? Manufacturers have accounted for this: The moment the program starts, the oven door locks automatically. On some models, however, the oven door can get very hot during pyrolysis. It is best to seek advice from specialist retailers as to which manufacturers have best dealt with this problem.
Myth # 3: Self-cleaning ovens with pyrolysis are expensive
The same principle applies here as for energy consumption. One self-cleaning process costs around two dollars of electricity. While the oven is cleaning itself you can use that time for other purposes. A good oven spray that gives real results also has its own price. Ovens with pyrolysis are slightly more expensive to buy than comparable ovens without a self-cleaning function. Ovens with catalysis are cheaper than those with pyrolysis.
Myth # 4: There are hardly any accessories for pyrolysis ovens
If you decide to buy a self-cleaning oven, you should make sure that accessories such as baking trays, racks or pull-out rails are pyrolysis-compatible. Otherwise, they must be removed and cleaned manually before the process. Large manufacturers such as Samsung, LG and Whirlpool now offer accessories that can remain in the oven during pyrolysis. So those accessories are cleaned at the same time and do not have to be cleaned separately.
Myth # 5: During and after pyrolysis, it smells burned in the kitchen
If food scraps are burned at high temperatures there may be an odor. This is normally limited due to good insulation. A big advantage is that the oven is really clean after the cleaning program. In contrast to ovens without pyrolysis, there is no contamination that seeps onto food with every baking process and causes unpleasant smells.
Frequently asked questions about self cleaning ovens with pyrolysis
What is pyrolysis?
Pyrolysis is a special program for oven cleaning, in which the appliance is heated to around 500 degrees. All residues such as food residues or fat splashes are burned to ashes, which can then simply be wiped away with a damp cloth.
How long does a self cleaning oven take?
The program runs for about one to three hours depending on the level selected and the manufacturer.
How often should you do pyrolysis self cleaning?
That depends on how much the oven is used. Manufacturers recommend performing the pyrolysis self cleaning three to five times a year. If dishes are frequently prepared in which a lot of fat drips and splashes from the food, pyrolysis can of course also be used more frequently.
Does pyrolysis self cleaing ovens require special accessoris?
Not all accessories are safe for pyrolysis. This is something to consider before buying. Utensils made of stainless steel or aluminum must never be cleaned with pyrolysis. Many manufacturers now offer accessories that can remain in the oven during pyrolysis and are also cleaned during the process. So there is no need for additional rinsing and the time-consuming task of dismantling the rails and other stuff.